5 minute morning meditation
Hi, and welcome to this 5 minute morning meditation with me Ryan Griff.
Take a few moments to close your eyes and focus on your breath.
Feel the air fill your lungs and then slowly release it. Release any stress or tension you may feel, allowing your body to relax even more deeply with each breath.
Now, begin to take note of the sounds around you. Listen for birds chirping, cars driving past, wind rustling through trees and leaves, or anything else that you can hear in the distance.
Notice how different sounds are intermingled with one another and become a natural soundtrack to your morning meditation.
Bring your awareness back to your body and visualize yourself standing on a lush meadow surrounded by grasses waving in the wind and wildflowers dotting the landscape.
Feel the sun's gentle warmth on your skin as it rises above the horizon line, casting its morning light onto everything before you. As you take in this beautiful morning scene, you hear the buzz of bees nearby and feel a sense of peace settling within you.
Now imagine that nature is speaking directly to you through this moment in time, inviting you each day to slow down, breathe deeply, and appreciate all that life has to offer. Let any worries or anxieties come up and be released through each breath until they fade away entirely into nothingness.
Take one last long deep breath before gradually opening your eyes, feeling refreshed and ready for whatever comes next today with a peaceful heart full of gratitude for this new day ahead!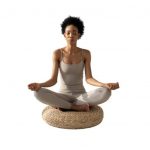 After retiring from professional soccer, Ryu decided to help teach other athletes the benefits of mindfulness and meditation. Implementing these techniques during performance helped him significantly and now Ryu would like to share this knowledge with the world.