Guided Aum Meditation with Humming and Chanting (60 Minutes)
Intention:
Take a few moments to close your eyes and set an intention for this meditation. Notice where your attention is drawn, and take a moment to observe whatever comes up for you. Recognize the sacredness of this time for yourself, and be open to whatever insights may come.
Breathing:
Begin by bringing your awareness to your breath. Notice the movement of air through the nostrils as you inhale and exhale. Let go of tension in each exhale as you settle into this meditation practice. Allow yourself to take slow and deep breaths, noticing how each one brings nourishment to your body and mind.
Chanting:
To prepare for chanting the sacred syllable "Aum," begin by inhaling deeply, feeling the energy rise up through your body's core like a wave.
On the exhale, gently vocalize "Aum," letting it reverberate throughout your entire being as it exits outwards with a gentle humming sound. With each repetition, feel its vibration travel through every cell in your body down into the very depths of your soul.
Visualization:
As you continue to chant Aum, see it as an infinite looping circle that moves up through your spine like a spinning wheel of energy, ever-growing brighter and more powerful with each repetition of Aum until it reaches its peak brightness in the crown chakra at the top of your head. Feel its lightness radiating from within you outwards in all directions connecting everything together in perfect harmony and balance.
As it expands beyond, you know that anything is possible limitation does not exist here – tune into this truth with each repetition of Aum on every inhale and exhale until all duality is dissolved again into unity.
Mantra Repetition:
Bringing awareness back inward now, focus on repeating silently or aloud any mantra or affirmation that resonates with you most deeply right now, something such as "I am absolute joy" or "all is well." As these words enter into your being on each inhalation, receive their healing power into every layer of cells to align more deeply with their truth, then allow them to expand outwardly on each exhalation so that they can reach far beyond what was believed before now reaching out towards infinite possibilities within this present moment who's an only boundary is love itself.
Rest & Reflection: After chanting Aum and repeating mantras for some time (as long as feels comfortable), bring attention back inward towards yourself and onto any sensations rising up within you now, both physical bodies sensations as well as emotional ones too without judgment or attachment observe & acknowledge them allowing them space to exist within this moment no matter how big or small they may then gently release them when ready returning finally to stillness & silence once again… choosing perhaps if desired to rest here quietly for a while longer before slowly beginning to move onto other activities again soon…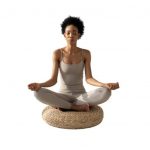 After retiring from professional soccer, Ryu decided to help teach other athletes the benefits of mindfulness and meditation. Implementing these techniques during performance helped him significantly and now Ryu would like to share this knowledge with the world.