Body Scan Meditation 10 minutes
Welcome to your body scan meditation. During this practice, you'll focus on each area of your body and notice how it feels. You can do this sitting or lie down in a comfortable position. Before we start, take a few moments to get settled and establish yourself in the present moment. Allow your eyes to close and focus your attention inward.
Let's Begin
Now begin by focusing on your feet. Notice the sensations that are present in the soles of your feet the pressure of the floor beneath them, any tingling or warmth, any coolness or soreness. Gradually move up through your ankles and calves, noticing their textures, temperatures, and connection to the surface below them. Gently pause at each joint and linger if there is more sensation there than elsewhere.
Continue up into your thighs, paying attention to both sides equally noticing any tightness or aches and areas that feel relaxed and open. Move on to hips and pelvis, once again noticing any sensations that may arise such as warmth or tingling before continuing up into the abdomen area. Here take time to observe physical sensations and the subtle energies that pass through the belly like waves in an ocean.
Next move onto your back and spine, sensing those vertebrae one by one from tail bone all the way up past shoulder blades until you reach the neck here again pausing for breath at each joint along the way to truly connect with its energy field before moving on. At this point, take a moment to notice how far you've come acknowledging with kindness all that you have observed so far without judgment or expectation of outcome.
Now travel slowly upwards towards the chest and heart area, allowing yourself to explore these areas physically through temperature changes or emotionally through feelings of compassion and tenderness towards yourself and others around you. Continue up towards the head now feeling the top of the skull down through the forehead, temples, cheeks. Chin being mindful of every nuance of bodily sensation along its journey here too until finally resting on ears – feeling size shape texture – taking note of every detail here too before finally landing back on the nose where our journey began.
Now spend a few moments reflecting once again upon all that has been experienced over course of this body scan. Noticing what remains unchanged throughout the process as well as whatever shifts occurred both physical sensations felt during exercise and emotional shifts that may have resulted from the same allows these feelings gentle space within which they can arise naturally without pressure for them to change further.
Finally, when ready, slowly open your eyes and bring awareness back into the present room with a kind appreciation for having engaged in such practice today.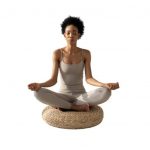 After retiring from professional soccer, Ryu decided to help teach other athletes the benefits of mindfulness and meditation. Implementing these techniques during performance helped him significantly and now Ryu would like to share this knowledge with the world.