Chris Hemsworth Meditation
What an amazingly silky smooth and rich-toned voice this Chris Hemsworth Meditation has. Indulge and release the tension. Enjoy.
Stress Release Meditation Chris Hemsworth
Welcome to your first stress-release meditation with me…Chris Hemsworth. Most likely, you're here because you're feeling stressed, and you're not alone. So, let's not waste any time and get comfortable. You can sit or lie down, whatever feels right for you.
Now, take a few deep breaths and turn your attention to your body. Take a moment to rate your stress. If you had to give it a number out of 10, with 10 being high stress and 0 being totally relaxed, what number would you be right now?
Okay, now feel where that stress lives in your body. Where do you notice it the most? We won't stay here long, it's just a way to bring your attention inward. Maybe your jaw feels a little clenched, perhaps there's some tension in your throat, are your chest or shoulders tight? Take a moment to scan your body for the areas that feel the most sore or tense.
Now, focus on the place where your stress seems to live. Bring all your attention to that area. It might seem to increase the tension at first, but stay with it. In a moment, you'll sense that it's beginning to smooth out, softening, relaxing. Feel your body calming down and notice how any worrying thoughts begin to dissolve.
That's right, sense your muscles loosening their grip, feel your shoulders drifting down, and your mind beginning to slow. That's it, feel all the tension melting away as your face begins to soften, you feel more and more relaxed. What level is your stress now?
Taking time out like this helps distill your mind and reduce stress quickly and easily. But for now, keep your attention on your body, fill your jaw letting go, your hands are feeling lighter now, notice your chest expanding and opening, your stress level is lowering with every breath. It's melting away like ice cream on a hot day. Let your body tell you where to go next, where do you feel the tension now? Maybe it's already gone and you're feeling deeply relaxed, calm and present.
Now, maintaining that soothing sense of calm, it's time to bring your awareness back so you feel fresh and alert. Begin by focusing on your arms and hands, feeling how relaxed they are, but at the same time so alive. Your mind is clear and alert, and you feel so fresh, recharged, and ready to go.
I'll count you through your next three breaths. On the third breath, you'll be feeling bright and full of life. One, feeling wonderfully relaxed, two, becoming aware of the room you're in and the sounds around you, and three, you're fully awake and energized. Well done, you've completed your first stress release meditation. Have a relaxing day and remember that anytime you need to let go, meditation can help.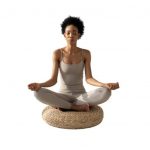 After retiring from professional soccer, Ryu decided to help teach other athletes the benefits of mindfulness and meditation. Implementing these techniques during performance helped him significantly and now Ryu would like to share this knowledge with the world.