Introduction (2 minutes):
Welcome everyone! To begin our Common ground meditation, let us start by focusing on our breathing. Begin to take deep breaths while paying attention to the sensations in your body and how each breath evolves from the last.
Take a moment to become aware of your body and the space around you. Once you feel settled, start to release any tension or stress that might be present in your body.
Grounding (4 minutes):
Next, we will begin grounding ourselves in common ground meditation. Picture yourself standing on top of a hill inside a lush forest surrounded by tall trees with birds chirping, singing their sweet melodies as they soar through the sky. As you look down from your vantage point, take note of the vastness below and all its beauty.
Notice the rolling hills and valleys that form intricate patterns along with different shades of green melding together like a patchwork quilt below you. In the distance, you can see a small stream snaking through the landscape and all its inhabitants living harmoniously.
Now, imagine stepping into this landscape and beginning to explore it all around you as if you were part of it: smell the air, feel the wind across your skin; observe every detail that comes into view; notice any feelings that come up within you; listen to what nature has to offer; appreciate its grandeur and complexity; practice being present in each moment with open curiosity free from judgments or expectations.
Common Ground (4 minutes):
In this next part of our meditation, we are going to explore common ground. Start by noticing how all life is interconnected within this vast landscape: from humanity to plants, animals, and other creatures that inhabit this world, everything has an important role here, just like we humans do too!
Recognize how each being here contributes something unique, essential for maintaining balance in nature's ecosystem. Feel connected to everything around you as if there was no separation between yourself and nature's natural order; create an image of unity between all living beings regardless of size or species, then continue exploring this idea further by taking some time to appreciate what makes us alike instead of emphasizing those things which make us different or separate us from one another in any way possible.
Awareness & Closure (5 minutes):
Spend some time now reflecting on what we discovered today while keeping in mind our common ground experience: notice any changes that have taken place within while also reminding yourself that everything here is just one piece in a much larger puzzle. So even though we may be separate individual entities existing within a vast cosmic realm, at times, it's important to remember we are still connected on some level or another through shared experiences, such as these meditations!
When ready, slowly begin coming out of this state by starting to move your fingers and toes before gradually returning back into full awareness before finally ending our session today with gratitude for having taken part in such meaningful moments together thank you for joining me!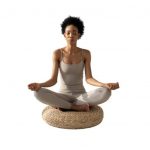 After retiring from professional soccer, Ryu decided to help teach other athletes the benefits of mindfulness and meditation. Implementing these techniques during performance helped him significantly and now Ryu would like to share this knowledge with the world.