dharma ocean guided meditation
A 30 Minute Dharma Ocean Guided Meditation
Welcome and Introduction (5 minutes):
Begin by inviting the participants to find a comfortable seated position and close their eyes. Ask them to become aware of their body, and take a few moments to adjust it so they can sit comfortably and relaxed. Gently remind them that if any part of their body feels uncomfortable during the meditation, they should move or adjust it as needed.
Invite everyone to take a few deep breaths in through the nose and out through the mouth, letting each exhale be slightly longer than each inhale. With each exhale, encourage them to let go of any mental or physical tension, allowing themselves to sink further into relaxation. Remind them that it is perfectly normal for thoughts or sensations to arise in meditation, but not to get lost in them. Rather, encourage them simply acknowledge whatever arises and then let it go for now.
Body Scan (10 minutes):
Once everyone is settled and relaxed ask them to begin with a full-body scan from head-to-toe. Guide them through scanning the various parts of their body—including the face, neck, shoulders, back, arms & hands, belly & chest, hips & pelvis—noticing any sensations they become aware of without judgment or interpretation. Invite them to bring mindful awareness wherever they notice any tension or tightness; visualizing breath as soft light entering these areas with each inhalation and releasing with each exhalation until becoming more relaxed as they move on throughout the body scan.
Visualization (15 minutes):
Once finished with the body scan, invite everyone into an imaginative visualization exercise in which you will guide them on a journey through four different landscapes – earth, water, fire, and air with an emphasis on cultivating mindfulness around how these elements affect us emotionally and physically in everyday life.
Begin by directing their attention towards Earth – this could be walking along a beach or forest path, observing nature around you; asking yourself questions such as "how does seeing this make me feel?" "What is unique about this experience?" etc., allowing yourself time here before continuing on your journey towards Water, whether this is swimming in an ocean or sitting beside a lake again, observing what comes up within; noticing any emotions that arise during this experience before moving on towards Fire envisioning yourself standing near a bonfire or looking out over city lights at night once again taking note of how being present in such an environment affects you emotionally/physically; slowing down here before concluding your journey with Air imagining yourself standing atop a mountain peak surrounded by clouds or flying high amongst birds overhead holding space for whatever feelings may emerge here before bringing your awareness back into your physical body; feeling deeply connected now after having spent time immersed in all four elements of Nature surrounding you.
Conclusion (5 minutes):
After completing your visualization practice return your focus back onto the breath; reminding yourself that similar feelings can also be cultivated while simply sitting still without actively engaging imagination – just focusing inwardly on incoming/outgoing breaths; allowing natural stillness/calmness within mind/body arise on its own accord – enjoying this moment right now before slowly beginning open eyes when ready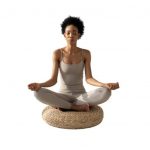 After retiring from professional soccer, Ryu decided to help teach other athletes the benefits of mindfulness and meditation. Implementing these techniques during performance helped him significantly and now Ryu would like to share this knowledge with the world.