Guided meditation for law of attraction
Welcome to our Guided meditation for law of attraction. For the next 30 minutes, I invite you to relax and focus on your breathing as we explore this powerful idea that has existed since ancient times.
To begin with, let's take a few moments to get comfortable. Find a position that feels good to you, sitting or lying down, and become aware of your breath. Allow yourself to relax in the space, allowing each breath to be deeper and more relaxed than the one before it.
As your body begins to relax further, bring your attention now to the concept of the law of attraction. But this is the idea that whatever thoughts or feelings you put out into the universe will be amplified and returned back in kind. In other words, what you think or feel is what you will attract back into your life; positive thoughts and feelings lead to positive outcomes and results, while negative thoughts and feelings lead to negative outcomes.
Now take some time now to think about how this idea might apply in your own life. Bring up any areas where you feel like something is lacking in your life at this moment perhaps it's a career opportunity or a relationship and consider how focusing on these things with positive emotion could help draw them closer into reality. Picture yourself achieving those goals and feeling fulfilled by their attainment; see it clearly in your mind as if it's happening right now, taking time to revel in those emotions that come with success.
Continue focusing on these positive emotions for a few minutes longer until you start feeling deeply connected with them; even if they don't seem true for you at this moment, allow yourself nonetheless to experience what it would feel like if they were real. Successful people often refer back to this idea of visualizing their desired outcome in order to make it happen so keep visualizing until you can almost taste it in reality!
Stay here for a few more moments with these positive emotions until, eventually, you are ready to let go. Take some deep breaths and slowly return awareness back into your body before coming out of the meditation when ready.
Thank you for being part of our guided meditation today exploring the concept of the law of attraction – may its power bring abundance into all areas of your life!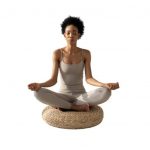 After retiring from professional soccer, Ryu decided to help teach other athletes the benefits of mindfulness and meditation. Implementing these techniques during performance helped him significantly and now Ryu would like to share this knowledge with the world.