Meditation for peaceful sleep
Peaceful Sleep Meditation
Take a few moments to relax for this Meditation for peaceful sleep. Find a comfortable position. You can sit cross-legged on the floor or in a chair or lie down with your legs slightly apart and your hands at your sides. Close your eyes, take a few deep breaths and become aware of your body and its sensations.
Begin to focus on releasing any tension or stress in your bodyletting go of any physical tightness or discomfort. Breathe into those areas and allow them to relax deeply, exhaling wholly and slowly until all the tension is gone.
Now shift your attention to the rhythm of your breath. Become aware of each inhalation and exhalation, feeling them move through your lungs and belly in a slow, steady rhythm. Notice how as each breath moves through you, there is a natural tendency for it to deepen, becoming slow and relaxed without any effort from you. Let this process continue naturally without trying to control it or change it in any way.
As you settle even more deeply into relaxation, imagine yourself lying peacefully beneath a canopy of stars on a warm summer evening. Feel the soft grass beneath you supporting your entire body as you become lighter with each passing moment. Take some time now to appreciate this peaceful atmosphere—breathing it in deeply and savoring its stillness as if it were an elixir for peace that could fill every cell in your body with calmness and contentment.
When you're ready, bring that sense of tranquility inside yourself by shifting awareness back to that comforting sensation of relaxation within your own body… feeling the natural ease that comes when we surrender entirely into restful sleepiness… noticing the warmth emanating from deep within… allowing yourself to drift off gently into peaceful slumber…. Allowing sleep to come naturally… letting go completely… releasing any lingering tension or worry… just observing whatever thoughts arise but not clinging on or getting caught up in them…. Being present with whatever is… relaxing more deeply with each passing moment… surrendering ever more fully into its gentle embrace.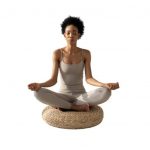 After retiring from professional soccer, Ryu decided to help teach other athletes the benefits of mindfulness and meditation. Implementing these techniques during performance helped him significantly and now Ryu would like to share this knowledge with the world.