Meditation Table Ideas: 6 Inspiring reflection pads
I'm excited to discuss some of my favorite meditation table ideas here today. From mountain-themed vignettes to zen gardens, there are many creative ways to create a calming and focused atmosphere conducive to successful meditation.
If you're looking for something that's both decorative and functional, consider adding plants, wind chimes – even images of nature! No matter what you choose, the important thing is that your meditation table reminds you of peace and tranquility. An easy way to spruce up any table is with art and accessories like candles, bowls or sculptures.
And don't forget the scent: aromatherapy oils and incense can really enhance the atmosphere. Whether you're a seasoned meditator or just starting out, these fun design elements can help cultivate an inner sanctuary without breaking the bank!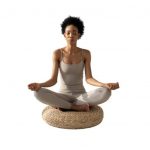 After retiring from professional soccer, Ryu decided to help teach other athletes the benefits of mindfulness and meditation. Implementing these techniques during performance helped him significantly and now Ryu would like to share this knowledge with the world.