Welcome to this moon gorgeous meditation. Take a few deep breaths and allow yourself to relax into the present moment. Feel the weight of your body against the floor or chair, and notice how the breath naturally flows in and out of your lungs. Now, start to imagine a beautiful night sky above you, illuminated by a large full moon in its center. Feel free to close your eyes if that helps you relax more deeply.
Allow yourself to be filled with a sense of awe and wonder as you gaze upon this majestic celestial object in all its glory – feel the power and mystery of it radiating from within. Notice how the light from the moon projects onto everything below it, bathing everything in its silvery glow; take some time to appreciate all the beauty around you truly.
Now, focus on the energy emanating from this big silver disc; feel it surging through every part of your being – nourishing and revitalizing each cell – filling you with a deep calm and peace. With each breath, become increasingly aware of how connected you are to every living creature on earth; know that when we look up at this incredible display of light, we are united in our shared experience of life's grandeur
Bring your awareness back now to your own body; notice any areas where tension might be held and consciously release them. Feel more into relaxation as you continue to be filled with serenity from the powerful energy of this luminescent display before you.
Take moments now to reflect on what makes YOU feel 'gorgeous'; think about all the beautiful things that make up who YOU are as an individual. You deserve immense love and appreciation for who You are!
Allow yourself time now for gratitude think about all those blessings, big or small, that have brought You here today – acknowledge each one with joyfulness!
And finally, Once again, become aware of this beautiful full moon illuminating everything around You – sending out waves of warmth and compassion – Thanking You for making time for Yourself today!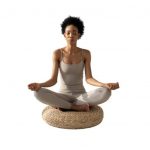 After retiring from professional soccer, Ryu decided to help teach other athletes the benefits of mindfulness and meditation. Implementing these techniques during performance helped him significantly and now Ryu would like to share this knowledge with the world.