Pipersong Meditation Chair: 10 benefits of using this chair
Nothing can compare to using my Pipersong Meditation Chair because it's beyond comfortable. It feels like I'm generously being gifted a hug every time I settle in.
Whenever life gets overwhelming and stress rises, my Pipersong Meditation Chair is there with me, helping keep me centered and balanced. Not to mention that looks so pleasant in my office room! Who doesn't love an accent chair that doubles as your zen den?
Table of Contents
The Pipersong Meditation Chair is a must-have for anyone who needs the perfect fusion of comfort, design, and wellness any day at any hour.
Reviews
I love the Pipersong Meditation Chair so much!! I was sceptical about the price but now I wish I'd purchased one earlier. I've always struggled to sit still and fit comfortably in a regular office chair due to my hyperactivity and ADHD. This chair has allowed me to sit and adjust throughout the day and supports every possible way I like. I was worried it would look weird in my room but its actually a good size and doesn't look "monstrous." I bought the grey color and it blends into my room. Thank you Pipersong!

Stephanie Swide
Check out all the Pipersong Meditation Chair Reviews
10 benefits of using the Pipersong Meditation Chair
1. Revolutionary Zen chair
As a revolutionary chair, it allows you to sit in various positions, such as cross-legged, squatting, kneeling, and countless others. Perfect for;
homeworkers
yoga lovers
meditation fanatics
Everyone who feels tired
With fixed sitting positions and would like to break the boundary of those conventional office chairs.
2. 360-degree swivel
Designed with the 360-degree swivel footstool, it gives you more freedom to sit. Besides switching from different unique positions, when you are not in the mood to sit casually or want to sit as usual for a while, you can always turn it aside and use it as an ordinary chair.
3. Flexible seating
The chair provides an active, flexible seating outlet that promotes constant movement and stimulation of your body. Change positions from time to time and sit in your most comfortable way. Long-duration sitting will no longer be boring.
4. High-density foam
Padded with high resilience, high-density foam, the 3.7-inch extra thick seat cushion plus the 1.5-inch thick footstool provide comfort support for your hip, feet, knees, and ankles while switching positions. The crescent-shaped backrest gives excellent lumbar support.
5. Solid steel base
Assembled with the SGS-certificated cylinder, solid steel base, and heavy-duty casters, it will ensure a safe and durable experience. Its polyurethane leather material is exceptionally soft touching and easily cleaned with leather cleaners. Even the white color won't be a pain.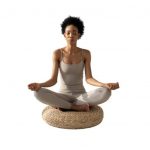 After retiring from professional soccer, Ryu decided to help teach other athletes the benefits of mindfulness and meditation. Implementing these techniques during performance helped him significantly and now Ryu would like to share this knowledge with the world.