This Guided Sound Bath Meditation is to be used in conjunction with the following audio sample.

Before we begin, I'd like to take a few moments for you to settle into the space. Feel free to adjust your seating or lying position as you need and get comfortable. Find an even breath and allow your body to relax. Feel the ground beneath you and connect with the energy of the room. Take a few moments and bring yourself fully here, allowing all else to drift away.
Intention Setting:
Now, let us set our intention for our time together. Imagine a golden thread that binds us all, sending out love and warmth in all directions. See how every person is connected to each other through this thread, giving us strength and support throughout our journey today.
Sound Exploration:
And now that we've set our intention, let's explore the sound of gratitude – one of the most powerful energies in the universe! Begin by imagining yourself surrounded by a bright white light of pure love and gratitude, feeling it fill your lungs with deep breaths of blissful joy. Imagine expressing your deepest gratitude for who you are and what you have been through in life – acknowledging how far you have come and how much stronger you are because of it. Now focus on this feeling as we move forward into exploring different tones and vibrations using singing bowls. As we explore these sounds together, feel each one being absorbed into every cell of your body – allowing them to lull away any stress or tension from your day-to-day life; gently washing over your entire being until all that remains is peace, love, and serenity.
Musical Interlude:
We will now transition into a beautiful musical interlude created specifically for this sound bath meditation. Give yourself permission to close your eyes if desired; allowing yourself drift off into the peaceful music as it fills up every corner of the room with its calming presence while providing just enough energy to keep our collective vibration alive during this moment in time – where we can be here together in celebration! Allow yourself to gently sink deeper into relaxation as the notes wrap around each other creating a harmonic blend of sounds that tug at every heartstring – connecting us even more deeply with ourselves & those around us…Letting go deeper & deeper still until arriving at a place of absolute tranquility within…
Closing:
As we near completion of this 45-minute sound bath meditation journey together, I invite you to slowly bring yourself back towards awareness before opening your eyes when ready. Begin by taking some deep breaths through your nose filling up your body with oxygen before slowly exhaling out through pursed lips letting any remaining tension dissipate from view…As you open your eyes slowly feel reconnected with the space around you knowing that whatever vibration has been set forth here will stay within & carry along with us long after this meditation has come & gone…Take some time here now before opening bringing yourself back towards awareness before emerging from this tranquil state refreshed & revitalized!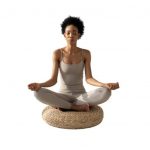 After retiring from professional soccer, Ryu decided to help teach other athletes the benefits of mindfulness and meditation. Implementing these techniques during performance helped him significantly and now Ryu would like to share this knowledge with the world.