The object of focus for meditation should be
The Object of Focus for Meditation Should Be?
Have you ever heard the saying, "Where your focus goes, energy flows?" Well, that same concept applies to meditation. In meditation, we use our focus to direct our attention and energy inward. But what should be the object of our focus during mediation? Let's explore some options!
The Breath
One of the most popular objects of focus in meditation is the breath. Many spiritual traditions have used breathwork as a way to ease the mind and connect with the present moment. When focusing on your breath, it's helpful to observe how your body moves, shifts, and relaxes with each inhale and exhale. This type of meditation helps us cultivate self-awareness and can also help reduce stress levels.
The Body Scan
Another great option for focusing your attention is a body scan. During a body scan, you move your awareness from one part of your body to another while noting any sensations or feelings that arise in each area. This practice can help you become aware of tension or discomfort in parts of your body that you may not have been aware of before, which can help you take more care of yourself going forward. It also helps develop mental clarity and relaxation – two things we could all use a bit more of!
Visualization & Imagery
Visualization and imagery are powerful tools that can help deepen our meditation practice while also helping us manifest our dreams and desires into reality. Visualizing an image or scene that inspires you can help shift perspectives while providing calming effects and new insights about life situations. Whether it's an image from nature or something else entirely – get creative!
Summary
No matter what object you choose to focus on during meditation – whether it's breath work, a body scan, visualization & imagery – each will help guide you into deeper states of relaxation while cultivating greater awareness within yourself. So go ahead – find something to focus on – just don't forget to enjoy the journey along the way! Happy meditating!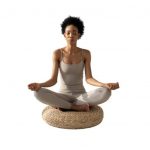 After retiring from professional soccer, Ryu decided to help teach other athletes the benefits of mindfulness and meditation. Implementing these techniques during performance helped him significantly and now Ryu would like to share this knowledge with the world.