Butterfly Meditation: 20 Minutes
Hi, and welcome to this guided Butterfly Meditation. Take a few deep breaths and allow yourself to relax in the present moment. 
Before you begin, find a comfortable place to be with your eyes closed. You can sit in a chair, on the ground, or lie down on your back. Make sure that you are warm and comfortable. Take a few moments to become aware of your breath and body. Allow your eyes to close and focus your attention inward.
Now imagine yourself standing in an open field surrounded by wildflowers. As you look ahead, you notice a nearby tree with large branches extending outwards and upwards towards the sky. A beautiful yellow and black butterfly is perched atop one of its branches, slowly opening and closing its wings in the sunshine.
Gently take notice of the beauty of this little creature as it flutters its wings in graceful movements. Notice how each flap seems to create a ripple effect, like waves in water, causing other objects around it to move ever so slightly in response; from the tall grass swaying gently to the petals on each flower undulating in harmony with each flap of its wings.
Allow yourself to feel the energy that comes from this single being and allow it to move through you like an energy wave, radiating outward into all directions like ripples in a pond when a stone is thrown into its depths. Feel this gentle wave of energy pass through every part of your body before traveling outward and beyond into infinity until it dissipates completely.
Now put yourself inside that butterfly's tiny world by imagining yourself shrinking until your body is no bigger than its own delicate frame; feel what it must be like to have such tiny wings propelling it forward effortlessly through the air – gliding across vast plains over meadows filled with wildflowers and majestic mountains draped with snow-capped peaks – pausing only briefly for rest upon a small branch within an ancient tree whose roots reach deep beneath the soil – before continuing its journey towards unknown destinations guided solely by instinct alone without any external direction at all – feeling only joy from the freedom found within each moment spent flying amongst the clouds…
Stay here for as long as you like – allowing yourself to absorb all the beauty found within this tiny creature's world before returning now back to reality when ready… gradually become aware again of your physical surroundings as you reach the end of this meditation… taking one last moment now to appreciate all that was experienced before opening your eyes when ready…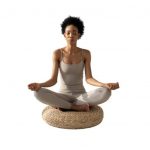 After retiring from professional soccer, Ryu decided to help teach other athletes the benefits of mindfulness and meditation. Implementing these techniques during performance helped him significantly and now Ryu would like to share this knowledge with the world.