We have all had moments when we've uttered the words "fuck it" in exasperation. But what if those words could be used to cultivate a state of peace and acceptance? Meet Fuck It meditation. This type of meditation is not just about saying "fuck it" and then moving on with life, but rather embracing the idea that things don't always have to go our way. The goal of Fuck It meditation is to let go of our expectations and surrender to whatever is happening in the present moment. Let's dive deeper into this unique practice and explore how to use Fuck It meditation in our daily lives.
What Is Fuck It Meditation?
Fuck It meditation is based on the concept that, sometimes, we need to let go of our expectations and accept things as they are—even if that means accepting failure or disappointment. By understanding that not everything needs to turn out the way we think it should, we can begin to open ourselves up to new possibilities and opportunities for growth and healing.
The Benefits Of Fuck It Meditation
There are countless benefits associated with Fuck It meditation, including increased self-awareness, improved decision-making skills, reduced stress levels, improved sleep patterns, increased compassion towards ourselves and others, enhanced creativity, better communication skills, and more. Practicing this form of meditation regularly can teach you how to find peace even when everything doesn't go your way.
How To Practice Fuck It Meditation
The key to successful Fuck It meditation lies in recognizing when it's time to let go of control over a situation or outcome. In these moments, take a few deep breaths and repeatedly repeat the mantra "It is what it is" until you feel yourself beginning to relax into acceptance. You can also use visualizations such as imagining yourself letting go of all your worries or picturing yourself surrounded by calming energy as you repeat this mantra. Whatever works best for you!
Summary
Practicing Fuck It meditation can help us move past feelings of rejection or disappointment in an effortless manner so that we can focus on enjoying life instead of worrying about things we cannot control. By recognizing when it's time to stop trying so hard and accept what is happening around us—even if that means accepting failure—we can begin living each day with greater ease while still achieving our goals with less stress along the way! So next time you feel frustrated or overwhelmed by something out of your control, try taking some deep breaths and repeating the mantra "It is what it is" until you find some peace within yourself again. You might be surprised at how much better you feel afterward.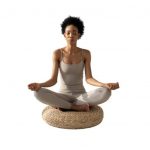 After retiring from professional soccer, Ryu decided to help teach other athletes the benefits of mindfulness and meditation. Implementing these techniques during performance helped him significantly and now Ryu would like to share this knowledge with the world.