Family Meditation: 20 Minutes Guided
Hi and welcome to this 20-minute guided Family Meditation that you can enjoy with your loved ones and or close relatives. Enjoy.
Time: 20 Minutes
Setting:
Find a peaceful location where you and your family can sit together in silence. You may want to light some candles or incense for a calming atmosphere.
Instructions:
Have each family member find a comfortable seat on the floor or in a chair and close their eyes. Now take some deep breaths in, filling up your lungs with oxygen and allowing your breath to expand your diaphragm. As you exhale, feel any tension releasing from your body as the air leaves your lungs. Continue this pattern of breathing until you feel relaxed and at ease.
Guided Visualization
Imagine yourself in a beautiful meadow full of lush green grasses and wildflowers stretching out into the horizon. The sun is shining overhead, casting its warm rays down upon you and creating a pleasant warmth all around you. You take in the beauty around you – the vibrant colors and fragrant aromas of the flowers, the chirping of birds nearby, and the gentle breeze blowing through your hair. Notice how calm and contented you feel surrounded by nature's beauty. Now reach out with both hands towards the sky – feel how powerful that sensation is – before slowly bringing them back down to rest on your lap or by your sides.
Affirmations:
Bring yourself back to the present moment now and repeat one of these affirmations silently to yourself three times:
"I am safe"; "I am surrounded by love"; "I am part of something greater than myself"; "I accept myself for who I am"; "I choose peace over conflict"; "I trust in my own power"; or "I will let go of all worries."
Sharing Time:
After repeating one of these affirmations three times, open your eyes slowly and turn towards someone else in family circle (or if alone, imagine another person there). Share with them what affirmation resonated most with you, followed by sharing about any other feelings or thoughts that came up for you during meditation time. Listen without judgment or response as each person shares their experience with everyone else before moving on to the next person in the circle.
Grounding Exercise:
At the completion of all sharing time, close your eyes once more and become aware of how much lighter physically, mentally. Emotionally this meditation had made you feel – especially compared to when it began! Take note of this newfound sense of peace within yourself before finally ending this session by connecting back to Mother Earth again – feet firmly planted into the ground below while imagining roots extending deep into Earth's core providing stability – allowing energy to flow both ways up into heavens above and downward into earth's core – filling self up with energy from both directions before ending session ultimately (or allow extra 5 minutes if desired).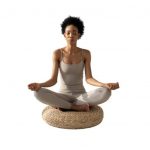 After retiring from professional soccer, Ryu decided to help teach other athletes the benefits of mindfulness and meditation. Implementing these techniques during performance helped him significantly and now Ryu would like to share this knowledge with the world.