Meditation vs Prayer: What's the Difference?
Have you ever wondered what the difference is between prayer and meditation? On the surface, it might seem like these two practices are very similar.
Both involve connecting with a higher power and allowing your thoughts to be guided by a greater force. But some critical differences between prayer and meditation can help you decide which practice is best for you. Let's dive in!
Prayer vs. Meditation what wins
At its core, prayer is a form of communication with God or another higher power. It often involves asking for guidance and help, but it can also be used to give thanks, express appreciation, and offer up praise. Prayer is often done with eyes open, usually involving speaking out loud or writing down one's thoughts.
People who pray may also use physical actions such as kneeling or folding their hands while they meditate on their words.
In contrast, meditation is an inward-focused practice that involves quieting the mind and body to connect with a more significant spiritual source of energy or power. Unlike prayer, meditation does not involve verbal communication; instead, it relies on inner stillness and awareness of one's own breath to achieve a peaceful state of being.
While some people prefer to meditate with their eyes closed to block out external distractions better, this isn't necessary for successful meditation sessions many people find that keeping their eyes open helps them stay focused on the task at hand.

Meditation Benefits
The benefits of prayer and meditation are numerous; however, research suggests that regular meditation can profoundly affect overall well-being.
Studies have found that those who meditate regularly report lower levels of stress and anxiety than those who don't meditate. They also experience improved focus and concentration during daily tasks due to increased mindfulness training during their sessions.
Regular meditators often have better sleep quality than non-meditators due to the calming nature of this practice.
Summary
Whether you choose to practice prayer or meditation (or both!), there's no denying that these two activities have plenty of physical and mental benefits so why not give them both a try? With just a few minutes each day devoted to either activity or, even better yet, combining them into one session, you could soon feel more relaxed, centered, and joyful than ever before! So why not get started today? You've got nothing to lose!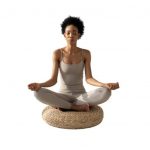 After retiring from professional soccer, Ryu decided to help teach other athletes the benefits of mindfulness and meditation. Implementing these techniques during performance helped him significantly and now Ryu would like to share this knowledge with the world.