Hi and welcome to this Thanksgiving Meditation that you can do to prepare for this particular time of the year. Enjoy.
Take a few moments to settle into your seat and close your eyes. Begin to deepen your breath, inhaling through the nose and exhaling through the mouth.
Feel the air as it moves in and out of your lungs, expanding them with each inhale and releasing any tension with each exhale.
With each breath, you take, imagine you can feel yourself growing more relaxed and at ease. As you continue to breathe deeply, begin to focus on all the things you are thankful for in life. Allow yourself to thank the universe for all of its gifts and blessings, big or small.
As you think about what you are thankful for, start by thanking those who have been an essential part of your life this past year family members, friends, colleagues, or even teachers who have inspired and supported you along the way. You may want to thank yourself for all the work that you've done to grow both mentally and spiritually during this time.
Express gratitude for anything else that has impacted your life – perhaps a favorite place you've visited recently or something new that you learned over this past year.
Now bring your awareness back to your breath, and allow it to carry away any thoughts or worries that may be on your mind right now so they can be replaced with a sense of peace and contentment. As Thanksgiving Day approaches, think about how this special holiday has been celebrated throughout history.
People gather together with food, friends, and family members to give thanks for all their blessings from the previous year. From its beginnings in early America, pilgrims come together to celebrate their first bountiful harvest after journeying across oceans from their homeland until the modern day when families come together from near and far to honor traditions.
Thanksgiving is about recognizing our immense fortune for having such abundance in our lives today regardless of what form it takes (e.g., food, health, meaningful relationships).
Inhale deeply and as you exhale, let go of any stress or worry, allowing it to melt away under the warmth of gratitude as we prepare ourselves mentally and emotionally for Thanksgiving Day ahead.
Inhale again deeply while feeling gratitude within every inch of your body; perhaps visualizing golden light streaming down from above radiating warmth into every cell within us as we express deep heartfelt appreciation for everything around us, including ourselves!
Exhaling slowly releases any residual tension left lingering so we may fully embody this momentary sense of peace before opening our eyes again, ready to embrace all the wonders Thanksgiving has in store!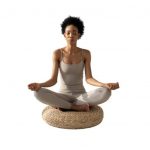 After retiring from professional soccer, Ryu decided to help teach other athletes the benefits of mindfulness and meditation. Implementing these techniques during performance helped him significantly and now Ryu would like to share this knowledge with the world.