30 minute guided sleep meditation
Welcome to this 30 minute Guided Sleep Meditation! Take a few moments to settle into your meditation space. Close your eyes and let the tension of the day melt away. Unclench your jaw, relax your shoulders, and soften any tightness throughout your body. Allow yourself to be fully present in this experience.
Now bring your attention to your breath. Feel its rhythm as it moves in and out of your body. Focus on the sensation of air as it fills up your lungs and then leaves again. Let each breath be a little longer than the last until you reach a state of relaxation and peace.
Now, imagine yourself in a beautiful forest filled with lush green foliage, abundant wildlife, and calming waterfalls cascading down nearby mountainsides. Every object is glowing with vibrant colors that fill you with awe each time you look around.
Take a deep breath in through your nose and exhale out through your mouth, releasing any remaining tension from within. As you wander through this majestic scene, take notice of how peaceful it is just being surrounded by nature's beauty.
As you walk further into the forest, you come across a peaceful stream running alongside a tall tree. The sun is low in the sky and creates an inviting atmosphere all around you – one full of tranquility and calmness that truly soothes away all worries from life's daily stressors.
Continue walking along this stream until eventually coming across an old wooden bridge crossing over it with no destination on either side – simply for enjoying the scenery itself without having to go anywhere else or do anything else but sit back and take in its beauty in perfect peace and solace for as long as desired..
Take this moment now to practice mindfulness whilst overlooking this incredible landscape before continuing on with relaxation techniques such as progressive muscle relaxation or guided breathing exercises if needed to help promote better sleep onset once ready for bedtime later tonight.
Allow yourself to enjoy these moments here until feeling relaxed enough – emerging refreshed when ready to continue onwards again thereafter whenever finished doing so..
Upon reaching that point, slowly move towards closing off this meditation journey by taking one last deep breath; allowing all thoughts and feelings experienced during these 30 minutes to drift peacefully away like clouds floating through the sky far above..
Open up your eyes gently feeling refreshed after taking this time out for yourself today – knowing that quality sleep awaits tonight when ready at bedtime!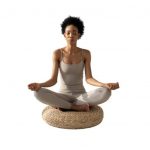 After retiring from professional soccer, Ryu decided to help teach other athletes the benefits of mindfulness and meditation. Implementing these techniques during performance helped him significantly and now Ryu would like to share this knowledge with the world.